Les Moriers
Fleurie Appellation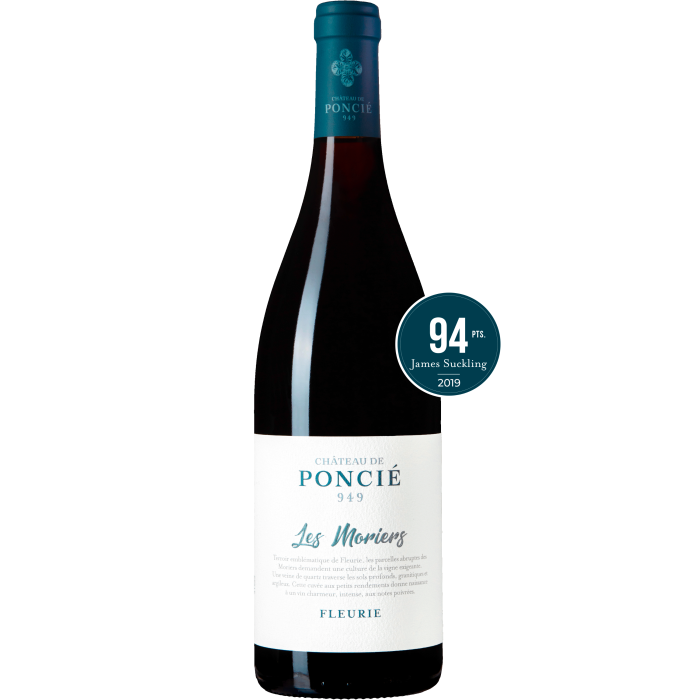 Les Moriers
Les Moriers
Fleurie Appellation
Our Les Moriers vintage is a reflection of the outstanding work of our winemakers and this emblematic Fleurie vineyard.

Its steep parcels require demanding soil work on 70-year-old vines. A quartz vein runs through the deep granite and clay soils.
A premium vintage with low yields (between 15 and 20 hl/ha), it gives a delightful and intense wine with peppery notes. In December, this nectar is then completely transferred to weathered oak barrels for a period of 10 to 12 months.

In our quest for biodiversity and the preservation of the quality of our terroir, we plant one tree for every wooden case (6 bottles) of wine purchased.
Les Moriers
Fleurie Appellation
The identity
Download the product sheet
Terroir
Grown on pink granite soil, traces of clay give strength and character to the vines. The north-east exposure is very important to preserve the freshness of the soil and allow a gradual development of the ripeness. The parcels border the Moulin-à-Vent hill, the last spur before the plains.
Viticulture
We cherish these emblematic parcels, old vines of more than 70 years of age. The soil is worked intensively, exclusively by hand and with a winch-assisted plow. On these exceptional parcels, yields are naturally low.
Vinification
The vinification process is natural and parcel-based, resulting in a unique vintage. The grapes are cold macerated, whole, or partially destemmed. Then the fermentation is long, from 15 to 20 days, allowing a delicate extraction of the aromas, letting the terroir shine through.
Pigeage is gentle and traditionally done by foot.
Special vintage
2018
An ideal year, characterized by a spring that alternated between sunshine and rain, and a perfectly sunny summer. Well-formed and compact clusters with optimal ripeness.
Low yield ~25hl/ha.

James Suckling - Les Moriers 2020

James Suckling - Les Moriers 2019

James Suckling - Les Moriers 2018

Concours des grands vins du Beaujolais - Les Moriers 2020

Concours Terre de Vins - Les Moriers 2019