Le Pavé
Côte de Brouilly Appellation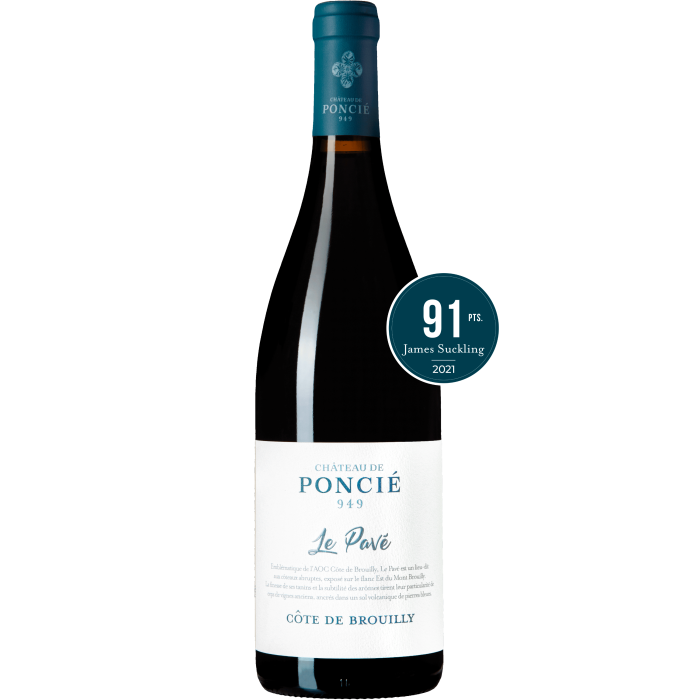 Le Pavé
Le Pavé
Côte de Brouilly Appellation
The 2021 vintage marks the first year of organic farming on vines over 80 years old.

Emblematic of the Côte de Brouilly appellation, Le Pavé is a vineyard with steep slopes exposed on the eastern side of Mont Brouilly. The delicacy of its tannins and the subtlety of its aromas derive their particularity from old vines, anchored in a bluestone volcanic soil.
Le Pavé
Côte de Brouilly Appellation
The identity
Download the product sheet
Terroir
Côte de Brouilly is one of the smallest crus in Beaujolais. The soil is made up of bluestone, considered to be one of the hardest rocks in Europe. Our vines, ideally exposed to the east, are overlooked by the chapel of Mont Brouilly, protector of the vineyard.
Viticulture
Originally, these vines were planted at a density of 10,000 vines/ha. Since our acquisition of the property, we have pulled up one row out of six to adapt these old vines to an organic and agroforestry method of cultivation, thus facilitating the work of the soil.
Vinification
The vinification is done with whole grape clusters "à la Beaujolaise" in 50hl stainless steel vats. The harvest is carefully selected on a sorting table. Cold vinification with native yeasts produces wines with a beautiful fruitiness typical of the emblematic Gamay grape.
Special vintage
2021
A powerful Beaujolais vintage. The wonderful months of August and September brought our harvest to perfect ripeness under a beautiful sun on September 21st.

James Suckling - Le Pavé 2021