Les Hauts du Py
Fleurie Appellation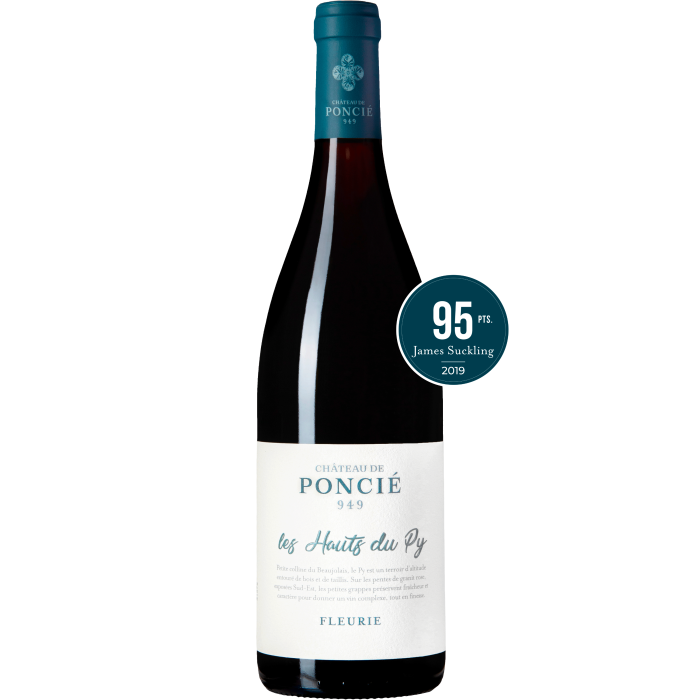 Les Hauts du Py
Les Hauts du Py
Fleurie Appellation
Small hill in the Beaujolais region, the Py is a high-altitude terroir. Centuries-old woods and groves overhang these very steep slopes, which culminate at an altitude of 410 meters.
On the southeast-facing slopes of pink granite, the small grapes retain their freshness and character to produce a complex and refined wine.
Les Hauts du Py
Fleurie Appellation
The identity
Download the product sheet
Terroir
Situated on a hillside at an altitude of 410 meters, this terroir is one of the most demanding of the Poncié Estate. The 20 to 30 cm of very mineral soil on a quartz vein requires great effort from the vines, whose roots have to work their way through the rock.
Viticulture
The soil is worked manually because of the important slope. Grass cover and mulching help to counteract the strong natural erosion of the soil. The yields of this demanding terroir are naturally limited.
Vinification
Vinification takes place in 50hl concrete and stainless-steel vats. The grapes are cold macerated, whole, or partially destemmed.
No sulfur is added. Then the fermentation is quite long, from 12 to 15 days, to allow a delicate extraction of the aromas, letting the terroir shine through.
Pigeage is gentle and traditionally done by foot.
Special vintages
2018
An ideal year, characterized by a spring that alternated between sunshine and rain, and a perfectly sunny summer. Well-formed and compact clusters with optimal ripeness.
Low yields ~35 hl/ha.
2019
Another year with a lot of sun and rain. Wines with less color extraction, but with a long and fine finish in the mouth thanks to the control of grape maturity.

James Suckling - Les Hauts du Py 2020

James Suckling - Les Hauts du Py 2019

James Suckling - Les Hauts du Py 2018

Concours des grands vins du Beaujolais - Les Hauts du Py 2020

International du gamay - Les Hauts du Py 2019

Concours des grands vins du Beaujolais - Les Hauts du Py 2019