Le Blanc du Château de Poncié
Beaujolais-Villages Appellation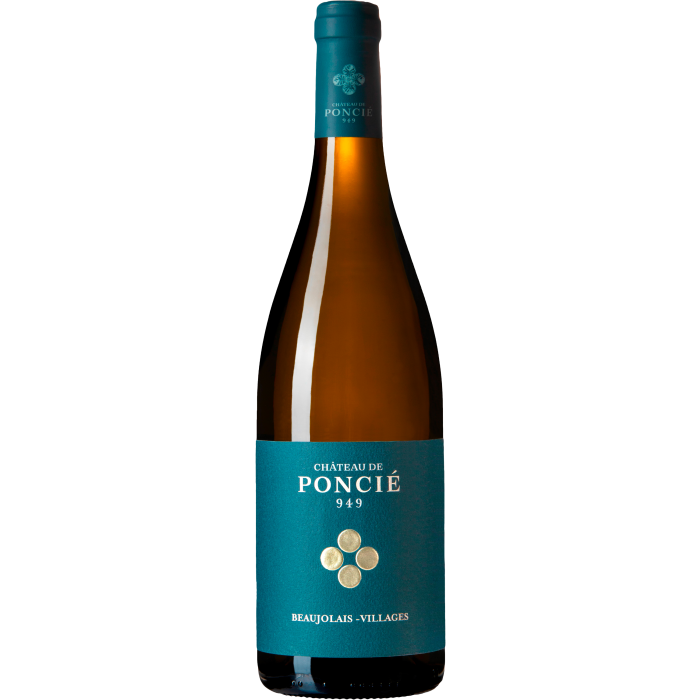 Le Blanc du Château de Poncié
Le Blanc du Château de Poncié
Beaujolais-Villages Appellation
The peculiarity of this Chardonnay lies in its exceptional location. At the foot of the Montgenas hill in the Fleurie appellation, the soils are deep and sandy, composed of fine clay and pink granite. These 3 hectares, with a north-east exposure, are ideal for the development of a beautiful freshness and balance of flavors.
An outstanding Beaujolais white wine.
Le Blanc du Château de Poncié
Beaujolais-Villages Appellation
The identity
Download the product sheet
Terroir
Nestled on pink granite soil, this terroir is ideally exposed to the northeast. A clay vein in the subsoil at the foot of the slope gives the Chardonnay strength and minerality.
Viticulture
In addition to selected grass covering, the soil is enriched with homemade compost. The parcel is in one piece at the bottom of a hillside.
Vinification
The pressing takes place immediately after a brief cold storage. No Sulphur Dioxide is added during vinification. Vinification takes place in stainless steel vats on fine lees at a low temperature of about 17°C.
Special vintages
2018
An ideal year, characterized by a spring that alternated between sunshine and rain, and a perfectly sunny summer. Well-formed and compact clusters with optimal ripeness. Low yields.
2019 (BIO)
Another year with a lot of sun and rain. A harvest at maturity allowed the preservation of a necessary freshness. A wine with a superb golden color that perfectly illustrates this vintage year. Hints of white flowers of hawthorn and acacia, honey aromas and a very pleasant nose. Low yield.

James Suckling - Beaujolais-Villages 2020

Concours des grands vins du Beaujolais - Beaujolais-Villages 2019