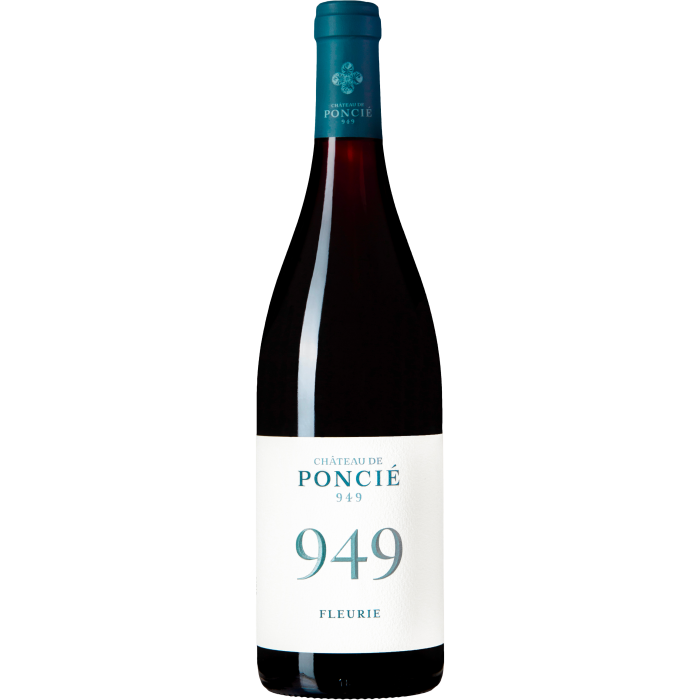 949
949
Fleurie Appellation
The 949 vintage, our Estate's iconic wine.
This red wine is made from different parcels of vines, all of which have an average age of 25 years, located below the Château de Poncié and on the Montgenas and La Brirette hillocks. With 20% of its maturation done in weathered oak barrels and a maceration period of 8 to 12 days, this wine is generous, fruity and velvety. It goes well with a wide variety of dishes.
The identity
Download the product sheet
Terroir
Grown on pink granite soil, the 949 vintage blossoms on gently sloping hillsides near the village of Fleurie.
While our vines on the Montgenas hill define the structure of the vintage and those on the Brirette its fruitiness and elegance, those located below the park bring freshness.
The diversity of its exposures makes it an ideal vintage.
Viticulture
The low density of planting, about 6,000 vines per hectare, allows a large leaf surface, thus avoiding competition between the roots. The use of light equipment avoids soil compaction and encourages precise soil preparation.
Vinification
Vinification takes place in 50hl concrete and stainless-steel vats. The grapes are cold macerated, whole, or partially destemmed. No sulfur is added during vinification. The fermentation, which lasts 8 to 12 days, allows a delicate extraction of the aromas, letting the terroir shine through.
Pigeage is gentle and traditionally done by foot.
Special vintages
2018
An ideal year, characterized by a spring that alternated between sunshine and rain, and a perfectly sunny summer. Well-formed and compact clusters with optimal ripeness.
Average yield ~42 hl/ha (maximum permitted: 56 hl/ha).
2019
Another year with plenty of sun and rain. Wines with less color extraction, but with a long and fine finish in the mouth thanks to the control of grape maturity.
Average yield ~38 hl/ha (maximum permitted : 56 hl/ha).

James Suckling - 2018

James Suckling - 2020

James Suckling - 2019